Today we're taking a break from our regularly scheduled supply chain blogging to post some exciting news from Argentus' extended family.
If you've read the Argentus blog, you know that most of our posts cover our recruitment practice, specialized in supply chain management and procurement. Career guides, resume tips, advice for hiring managers, interviews with executives, supply chain industry news — that's our bread and butter. But sometimes we have news from one of our own that's too exciting not to share.
Argentus has sponsored the AAA Don Mills Flyers in the Greater Toronto Hockey League (GTHL), which prepares young players for the next level of major hockey and opens many doors with opportunities within the Ontario Junior Hockey League (OJHL), the Ontario Hockey League (OHL), the National College Athletic Association (NCAA), and professional hockey beyond. It's been part of our effort to give back to the community, in this case by supporting youth sports in the city.
Now, one of the Don Mills Flyers' alumni — who also happens to be Argentus Partner Rosanna Palermo's son — is making waves in his hockey career.
As one of the league's top defensemen, Robert Palermo has had major success in the GTHL, playing for the aforementioned AAA Don Mills Flyers, as well as the AAA Markham Majors and, most recently, two years with the AAA Mississauga Reps Hockey Club. Earlier this year, the Reps wrapped up an amazing season where they finished first in the GTHL standings, advancing and winning the Ontario Hockey Federation Championships (OHFs). As this year's Ontario Champions, the Reps advanced to the Telus Cup in Calgary—Canada's national U18 hockey championships. The Reps waged a fierce campaign to the semifinals, ultimately bowing out in an overtime nail biter to the Moncton Flyers, who went on to win the Telus Cup.
As part of this incredible season, Robert was named a GTHL All-Star.
"Hockey is my life and has been since the very young age of one," Robert says. "With a mini stick in my hand, I learned to walk. Hockey has been at the centre of my family, who have been right by my side throughout this amazing journey so far. I couldn't be more grateful for their support, as well as the support of Argentus."
A few weeks ago, Robert accomplished another major milestone: he was selected as part of the 2022 OHL U18 draft, to the Hamilton Bulldogs.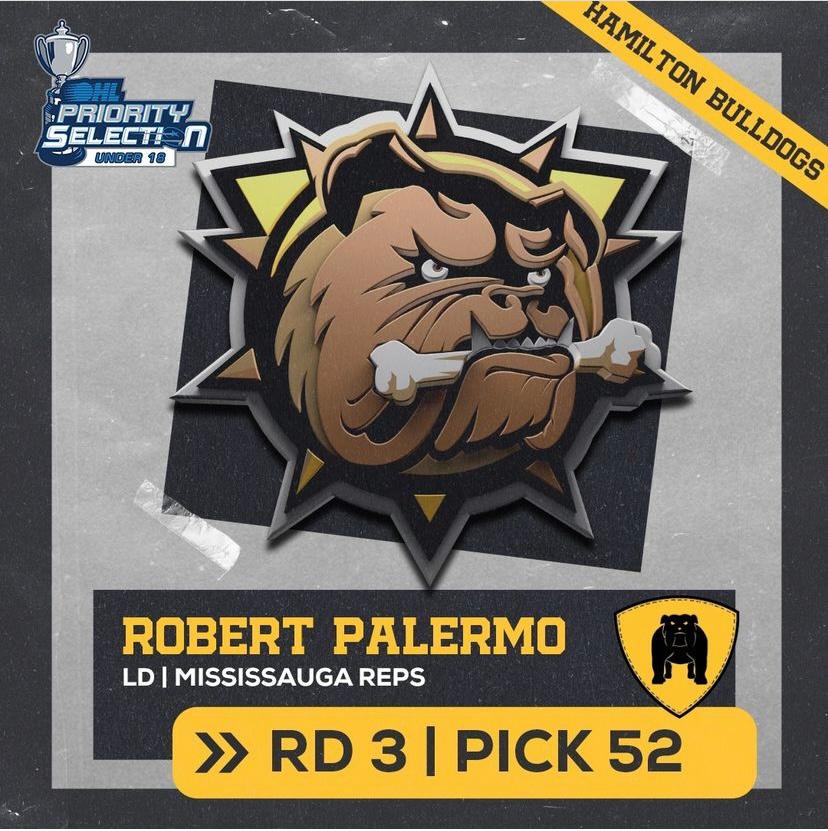 Anyone who's played sports seriously knows the huge amount of time, dedication and talent required to get to this elite level of competition. Now that Robert has been drafted to the OHL, the sky is the limit for his hockey career.
But Robert's OHL selection is not all the amazing news! Last week, the Hamilton Bulldogs won the OHL cup. Playing against the Windsor Spitfires, the Bulldogs won a decisive game 7 in front of a modern record OHL finals crowd of 11,779 at FirstOntario Centre. They began their campaign for the Canadian Hockey League (CHL) Memorial Cup on June 20th. Go Bulldogs go! We'd love to see them bring the Memorial Cup back to Ontario.
THEY'VE DONE IT!! YOUR HAMILTON BULLDOGS ARE 2022 ONTARIO HOCKEY LEAGUE CHAMPIONS AND ARE OFF TO THE MEMORIAL CUP IN ST JOHN!!!! #DawgMentality | #BeTheHammer 🔨 pic.twitter.com/037Am8nFQ1

— Xyz – Hamilton Bulldogs (@BulldogsOHL) June 16, 2022
From all of us at Argentus, a big congratulations to Robert Palermo for these huge accomplishments. We're thrilled to see your hard work paying off, and we can't wait to see what's next!