"We are in a golden age for talented and engaged Supply Chain Professionals." -Gary Newbury.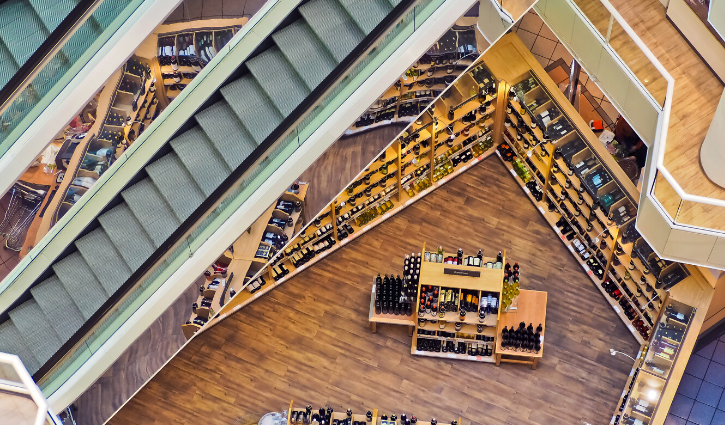 Welcome to Argentus' latest executive interview, where we tap into our network of talent to offer new perspectives on the world of Supply Chain Management and the tremendous changes taking place within it.
Perhaps no industry's Supply Chain needs have changed as much in the past decade as the Retail industry. As we've written about, the rise of eCommerce and Omnichannel has transformed the space.  Customers' expectations continue to rise in a world of next-day and same-day delivery, and innovators have thrived while a lot of the "dinosaurs" – the former titans of the industry – have folded.
It's a fascinating industry in flux, and the Supply Chain challenges – as well as opportunities — have never been greater.
That's why we sat down with Gary Newbury for this latest installment of our interview series. Gary is a Retail Supply Chain Strategist and Serial Transformation Executive with an extensive track record of boosting Supply Chain agility for some of the biggest brands in the UK and Canada. He's a deeply strategic Supply Chain thinker, with deep understanding of challenges and opportunities in the Retail space. He's also on the lookout for the next Canadian retailer to which he can bring his considerable Supply Chain transformation talents.
We spoke about:
The Canadian retail market and what sets innovators apart.
Common challenges and misconceptions when it comes to Supply Chain transformations.
The power of more dynamic Supply Chain and distribution networks for retailers, and the importance of creating a culture of sustained transformation over a "one-time" overhaul, and
The potential that retailers can unlock when they give Supply Chain a seat at the boardroom table.
We hope you enjoy the interview!
Could you start by giving us a brief overview of your career in Supply Chain? Many people report that they "accidentally" found their way into the career, but now love it. Was this the case for you?
Like many others, I had an unconventional entry into Supply Chain. For me, it occurred via three notable "episodes": Firstly, having completed my MBA and done a couple of turnarounds, I found myself joining Storehouse Retail Group at the start of the 90s on a massive network outsourcing and centralisation program of 16 specialty brands (700+ big box stores). It was the biggest of its kind in Europe at that time and it was a baptism by fire. It was also highly enjoyable as no sooner had the outsourcing been completed and the team settled into contract management of the 3PL, we were asked to decentralize supply chains back to individual retail banners, without increasing operational costs! These few years taught me so much about retail logistics, and, importantly, how to create new solutions, and influence their adoption.
I moved on to become the CFO of the UK's fastest growing 3PL, AAH Distribution, and then into my own practice as a change leader across 35 businesses within the retail supply chain.
Secondly, after qualifying as a Chartered Management Accountant with an MSc in Supply Chain during the mid to late 90s, I was forced to "pick a lane", either finance or supply chain. As I had been increasingly enjoying the operations and strategy side of business I decided I would "operate" a little bit more and ceased my financial career path. I have always made sure to keep a clear understanding of how valuable my financial skills have been as an interim CEO/CSCO managing often tragically badly-operated businesses, tackling the mission critical issues, setting new strategies and implementing the necessary changes to get the team to a better place.
Thirdly, around 3 years ago, having believed many of my roles undertaken were in B2B situations, when I thought about the ultimate consumption of the products flowing through the "four walls" of the business, the majority of the 50+ companies I have worked with have been fully in the retail supply chain, midstream, retail or direct to consumer in their nature. It was a moment of revelation, and one which I have since fully embraced as I seek to uncover a bricks and mortar retailer to help them achieve great success in a market which is going to experience severe disruption in the next 12-15 months, threatening to shake out many banners who remain unadaptive to the marketplace challenges ahead.
In the eCommerce era, customers' expectations from retailers are higher than ever before. From our perspective, this is leading to more pressure for retailers to get Supply Chain right, and making strong SCM operations a major competitive advantage. As an industry, Retail has undergone a lot of upheaval over the past few years, and a number of the "dinosaurs" have died off. What big opportunities do you see for companies in the industry to boost their competitiveness by improving their Supply Chains?
Looking at the "4 P's" of the Marketing Mix: price, product, promotion and place, for many years, "Place" didn't receive much attention beyond locating the store in a prime position. Amazon and other digital native retailers have redefined the concept of "Place" and in doing so, they've tremendously increased customers' expectations on Supply Chain – it's now in store, adjacent to and away from the store. Gone are the times when I'm in Vancouver, and delighted to get a product from a company in Toronto within a week. This is a key driver in the reimagining of the retail distribution network; "speed to market" has become a critical catalyst for the redesign of Supply Chains to stay in the game.
The dinosaurs in the retail market typically suffered from a combination of poor financial management, often being weighed down with debt. They also continue to suffer from a lack of adaptability and, importantly, a loss of relevance as disparities in disposable income have been increasing over the last decade or so. They hadn't always had a grasp of the customer's journey (the new and diverse buying patterns consumers have been developing). As a result, their management of the "moments of truth" along the customer's journey – the transition from gap identification, through search, buying to consumption – remained unresolved and under-documented. As a result, these companies did not develop formal processes to reliably deliver a remarkable and memorable interaction with their brand. So they failed miserably, without redemption, disrupting the livelihoods of many engaged store staff, merchandising and logistics staff.
I have to caution retailers that a one-time redesign (for the next 5-7 years, the typical timescales an automated warehousing facility to payback) is often ill-conceived. Even if I, as a proficient network designer and implementation leader, designed a new optimised distribution network for only the next 5 years, I would make fundamental errors and develop a solution which could constrain sales/growth only a couple of years into the plan!
The design of future supply chains has to encapsulate the concepts of dynamic distribution networks, convergent supply chains and "store of the future" concepts, which are all essential to coordinate and break free from the "static" competitive advantage paradigm which has a clear "best before date" stamped through their origination. Retailers need to get to a place where they can capitalize on constantly evolving consumer expectations, demographics, buying power, mobility and activism to gain a competitive advantage on an ongoing basis.
No longer can we rely on just customer loyalty, price or location to secure our future profitability in retail. We need to build in latency and flexibility within our supply chain design for "what ifs". These are no longer mere modeling constructs – they're now physical realities of future retail supply chain. While the logic behind this kind of transformation is clear to most retailers, there are culturally-ingrained ways of thinking which seem to repeatedly stump them.

Could you give us an overview of your approach to retail transformations and how to achieve those objectives? What are the biggest misconceptions Retail companies tend to have when they first set out to transform their Supply Chains?
I undertook some structured research into the Canadian retail market in 2017, and it's shown me that there's been some slow progress. There's a mismatch between the rate of progressive marketplace change in consumer expectations, and the ability of retailers to adapt positively, quickly, and thrive.
The key thing I keep reading about, and as I reflect on many, many conversations I have both online and offline is that many retailers don't know where to start their digital transformation journey. I would argue, however, that many are even less clear about their goals and the detailed changes in capabilities they expect to achieve.
In my career, I've often been brought in because of my experience is identifying mission critical issues, carefully scoping them, developing roadmaps to resolve them, engaging key stakeholders and then rapidly implementing change that cannot be reversed, pushing the business into a new version of themselves, their markets and their key value adding processes. I start from the customer need and work backwards, focusing on the essentials for delivery. This will, necessarily be, a "desilo'd" view of the business.
In terms of retail supply chain transformations, one of the biggest misses is not thinking clearly about enterprise level and end to end design and coordination. To implement block chain or AI, or even RPA, the Supply Chain chief must think beyond the four walls and consider the supply base and how to encourage them to share platforms for data exchange. This can be very challenging.
And of course, any sense of change can bring fear, uncertainty and doubt within the business that needs careful management, especially when you need the full engagement of the team to transition the business through a digital transformation. It's a journey, rather than an event, and not enough people viscerally understand this nuance.
From your perspective, what kind of cultural change can help companies get past these roadblocks?
For the last 3 to 4 years when I have been speaking at conferences I've been saying "We are living in a golden age for talented and engaged Supply Chain Professionals". For many years, we've been kept in the warehouse chucking boxes on the backs of trucks, but now businesses need more from us. What they need to do is put Supply Chain in the C-Suite – but don't leave it there. All retailers have a Chief Marketing Officer (who manages the Brand Promise), and similarly Retailers need to mature and appoint a Chief Supply Chain Officer (who executes on the Brand Promise consistently) who is going to help them break out of the silos they've been sitting in for such a long time. Retailers need to empower Supply Chain Executives to rethink the whole Supply strategy and develop a much more dynamic distribution network, before it's "game over" when Amazon eats their lunch.
In terms of eCommerce, who's looking after brand delivery? The marketing team develops the Promise of course, but it's the driver delivering something to the consumer, and any accompanying interaction that make it personal for the customer. You want the customer to repeat purchase in the future. If they have a bad experience, it can directly impact the brand. That's one area that Supply Chain comes in – as a crucial interaction between the customer and your Brand Promise.
Currently, many retailers are looking for the cheapest solution to getting the box between their stocking location and the target destination. On the face of it, this may make sense within the context of reducing cost per case. But retailers need to be sure to be consistent with their fulfillment process so they don't risk customers having a bad brand experience. I foresee a move where retailers with eCommerce scale consider making their own deliveries, rather than relying on outsourcing to a small package carrier or, worse, using an "Uber"/on demand solution where they can only attempt to control the cost, but not the delivery experience.
Most retailers have a shaky understanding of Supply Chain. They know merchandizing, they know store operations, they know about marketing. Supply Chain is seen as being down in the gunnels of the organization, but it actually touches every part of the organization. I think to facilitate getting Supply Chain people in the C-suite, companies need to realize the fundamental importance of Supply Chain to their brand's performance. If they do elevate a Chief Supply Chain Officer, instead of telling them to sit in the corner and being prepared to take a beating for yesterday's misses, they'll empower them to develop a dynamic network through collaborating with merchandising, store operations, and marketing, and the organization will move quickly towards a sustainably profitable position.
---
A big thank you to Gary Newbury for taking the time to do this interview, and stay tuned for the second part of our interview where we dig into Retailers' Supply Chain challenges from the perspective of talent.